hen planning a wedding, the impending mountain of expenses is always the first thing a couple is concerned with. But for others, it's the impact of their event on the environment. Think about this: Did you know that your beautiful, freshly-cut bridal bouquet used up airplane fuel to get in your hands? Most blooms are imported from all parts of the globe, hitching a ride on airplanes that burn up unrenewable fossil fuel. Don't even let us get started on the nasty chemicals involved in flower production. (Spoiler: They're bad for the environment AND people, too.)
So what's a bride to do? We found our answer in the form of Yss Lacsamana-Dela Cruz, a thrifty bride with a genuine love for Mother Earth. While scrolling through our Facebook feed, we came across a post she did explaining a few money-saving, earth-friendly hacks she employed during her wedding. "People opt to skip the DIY process because of the time and effort needed. But, really, with all the information online, it is possible to save money and lessen your purchases. There are a lot of information that shows you how to reuse items or recreate things from scrap material," she shared with us. "When in doubt, ask for help from your artsy friends. That's what I did. In the end, it's rewarding to see that what you have invested for your big day are still functional/useful after several months or years."
She also shared that she saved roughly P100,000-P120,000 by opting to go the eco-friendly way. Read her tips below and consider them when you're planning your next big event!
1. Get crafty.
Yss shares that these bowties were made from wood scraps from a local furniture shop. Total cost: Zero pesos! Since the shop was throwing them away, they gave the scraps to her for free.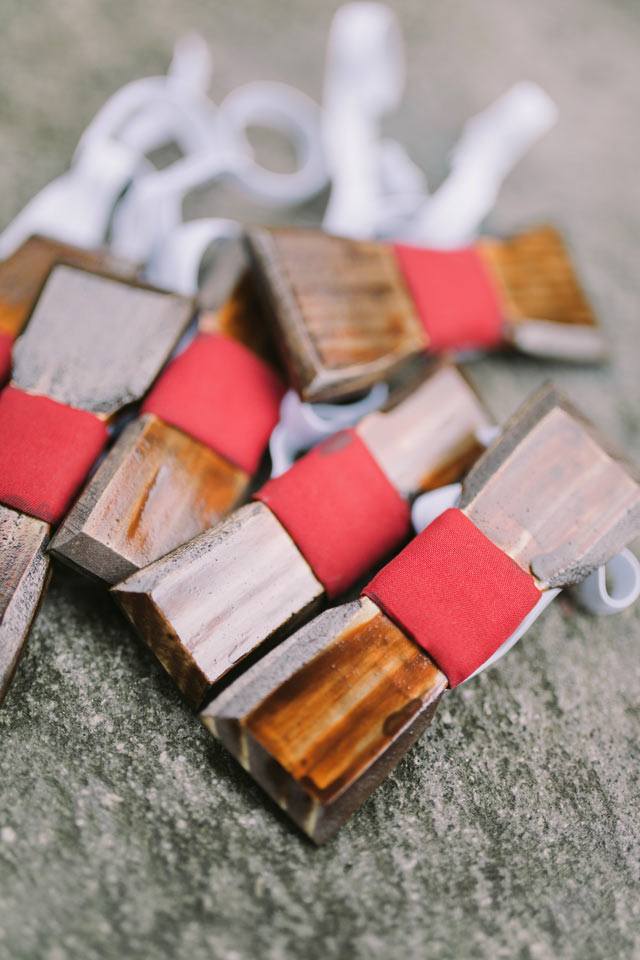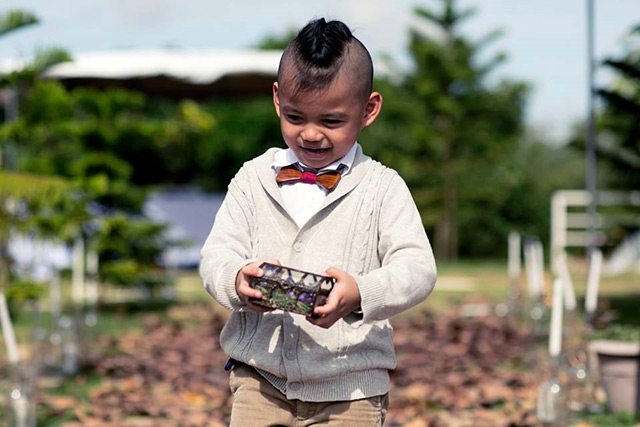 2. Use leaves instead of petals to decorate your church aisle.
"We just used dried leaves that were collected before the big day. Way, way cheaper (and sustainable) than fresh flowers!"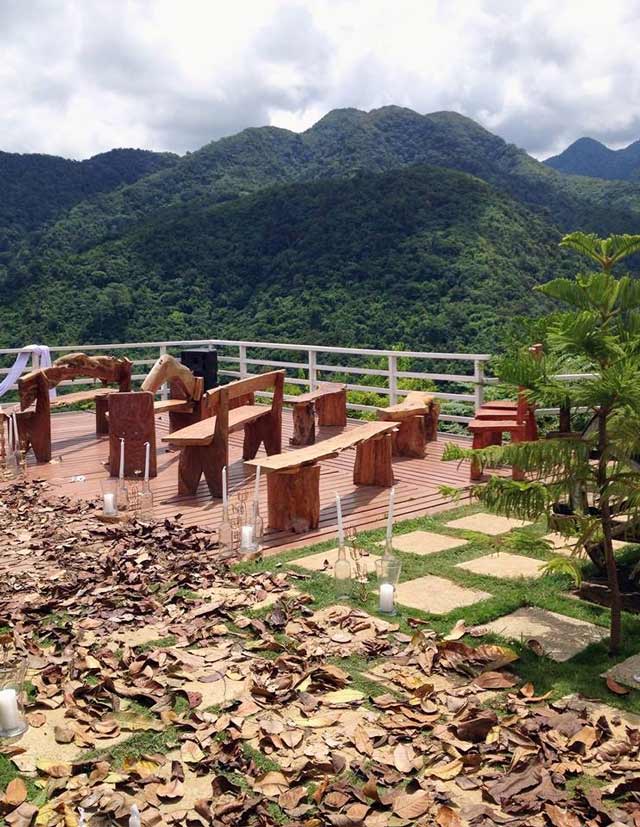 3. For souvenirs, get something your guests can use.
"Because it was a destination wedding, we opted for something that our guests could use during the trip. We had a soap bar care of one our of good friends (they made it!), and because we don't want to wrap them we provided small canvas pouches from used flour sacks."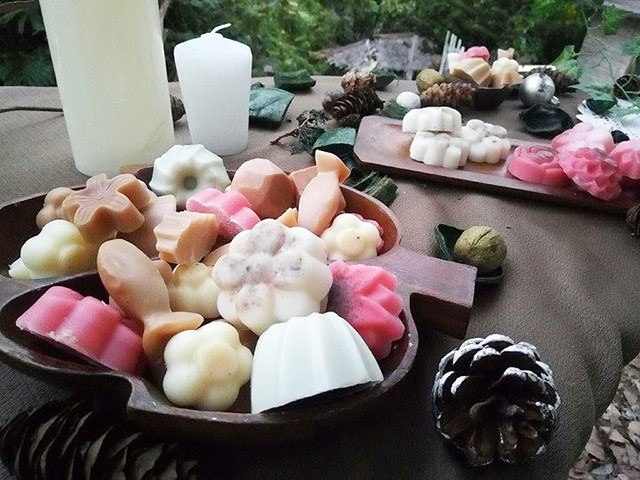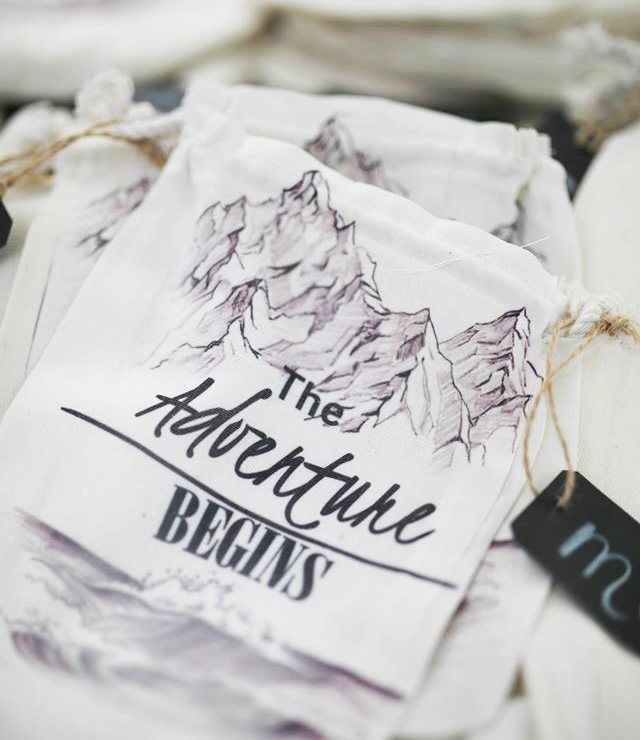 4. Use dried flowers.
"We just used dried grass, wheat, and flowers," Yss shares. "We just tied them together by ourselves, so no wasted ribbons, wrappers or anything."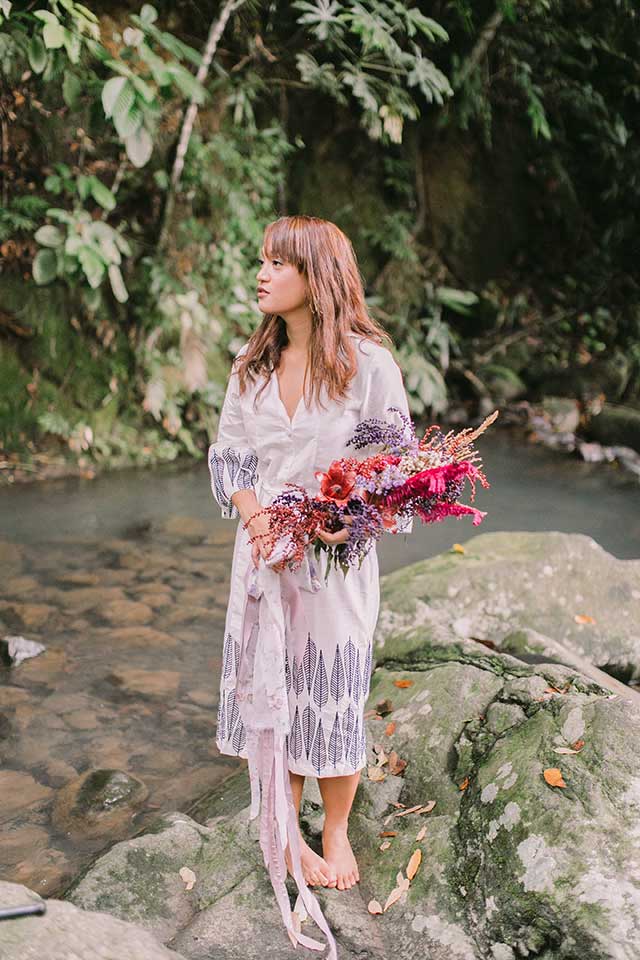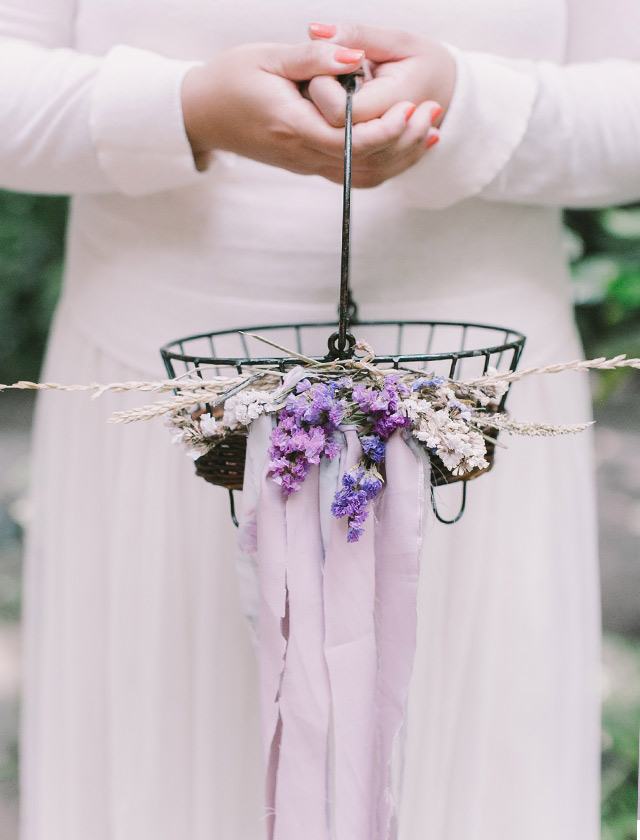 5. Send invites electronically.
"It's fast, simple and low-cost. And of course, waste-less."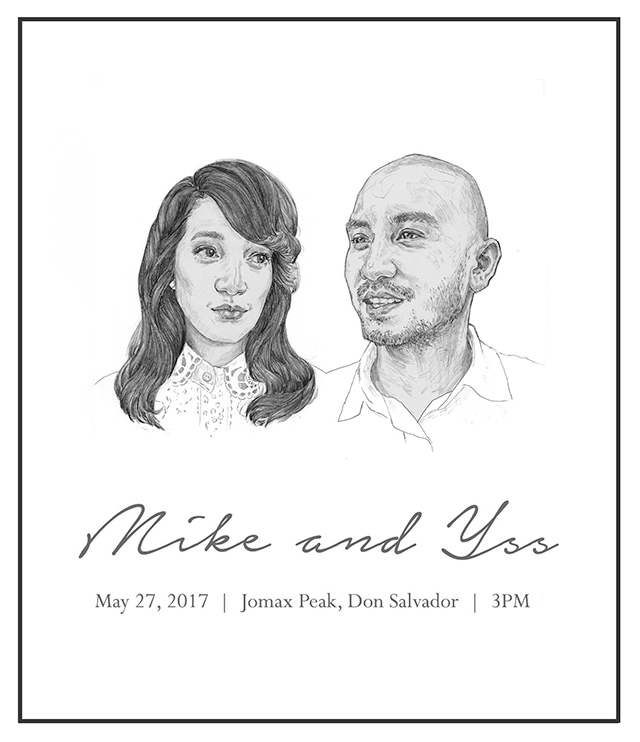 6. For your entourage dresses…
"Choose a fabric that won't require lining (this will also cost less on sewing and tailoring) or make sure that these dresses may be reused after the event (by your girls or by YOU)."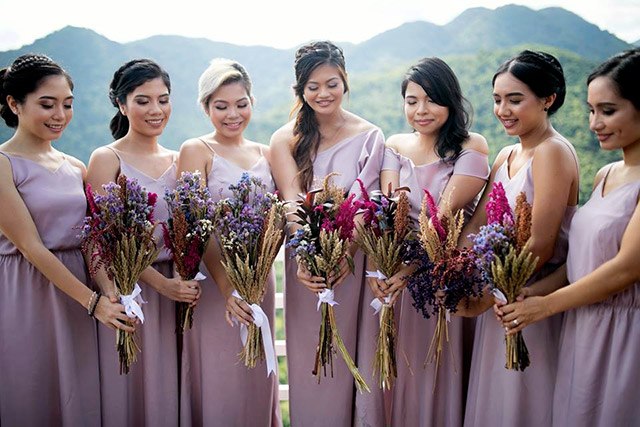 7. Make use of that venue.
"Choose a venue that's beautiful—you won't have to spend so much on the setup. Nature is always a good idea for a backdrop."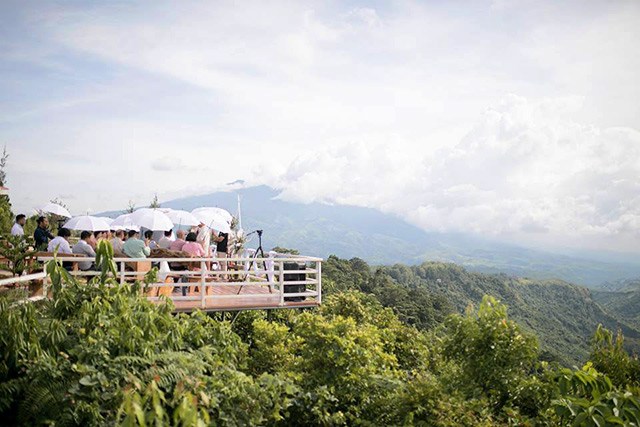 Aside from these, Yss also gives us a few more tips on how else you can save money while being kind to the environment.
8. Opt for what's in season.
By using flowers and food that's in season, it means using them when they're right at their peak. That means better tasting (and looking!) food without your food having to travel far and using up gas to get to you.
9. Collect your scaps.
"Use excess fabric from dresses as ribbons for your bouquets, gift tags, or for future party decor (like rags, ties, banners, even tassels)."
10. Make your own leaf wedding confetti.
"Collect dried leaves, better [if you get] those with different colors, which will make your wedding photo look like the fall season is here."
11. Reusing is always a good and thrifty option.
"There are a lot of wedding dresses, entourage dresses, props, and decor for rent or sale that you can find online."
12. Function over aesthetic.
"Always choose functional giveaways like a cutlery set, reusable straws, travel containers, or kits."
13. Think about what disposables you can do away with.
"If you're planning to have a cocktails booth, you can ask your caterer to provide the glasses/reusable containers. You might even get a discount since there will be no need for disposables from your cocktails supplier."
14. Use reusable and edible materials.
"Skip the straws and fake cakes (even if it's cheaper than real cake). Having things edible and reusable goes a long way and skips adding trash to the bag."
15. Use every inch of your invite.
"Reduce the use of paper for your invites by printing the map on the envelope seal flap."
BONUS:
16. Use biodegradable material for your wedding ring.
Now this is hard core: Yss's husband opted for a narra wedding ring, something biodrgradable and easily broken down. Just think about it—if it were to ever get lost, you wouldn't be polluting the earth!
We hope these tips help you plan the sustainable wedding of your dreams. Happy planning! (And don't forget to include Mother Earth to your list of wedding concerns, too!)